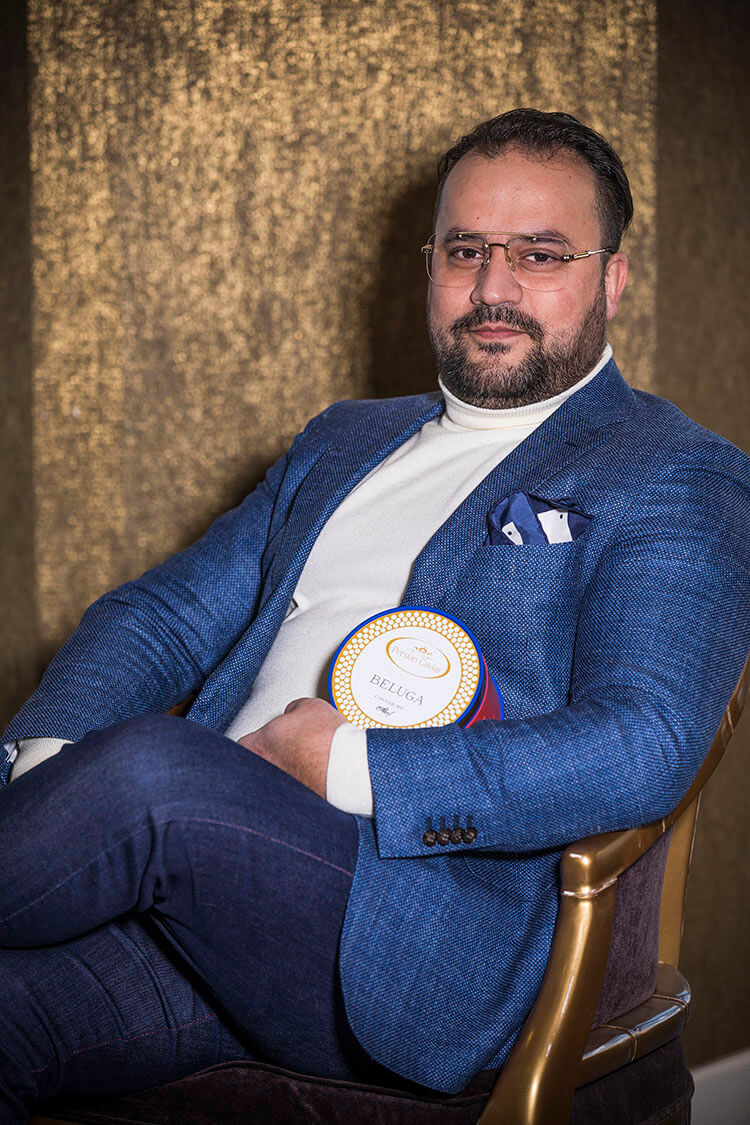 Persian Caviar was founded by Hossein Akef. As a little boy born in Tehran, his dream has been to one day work with caviar. With this as his goal, he graduated in International Business.
In the year 2004, Hossein began to realize his dream and the establishment of the family business Persian Caviar was a reality. Meanwhile, Hossein Akef may count himself as one of the few global caviar connoisseurs.
Our caviar goes all over the world, but above all toward the Netherlands, Belgium, Luxembourg, Germany, the Czech Republic, France, Spain, Switzerland and Sweden.
Caviar by Akef stands for quality and is praised for its freshness, palatability, aroma and texture. Therefore, our products are well known both at home and abroad by (sea) fishmongers, hotels, restaurateurs, caterers and caterers.
Our working method
We want to initiate you into the secrets of the "Food of the Gods.
The natural treatment combined with our passionate approach certainly makes this experience attainable. In addition, we believe it is important that the product is taken care of to perfection, both inside and out.
Persian Caviar is recognized by EC legislation and CITES certified. Also, Persian Caviar acts according to HACCP standards.
Caviar by Akef is known for its texture, aroma, taste and structure. This unique selling point is the main reason our products are sold at home and abroad in (
Michelin star) restaurants, caterers, hotels, retailers and wholesalers.
Not to forget
The sturgeon is becoming rarer and this makes the real caviar even more expensive. The sturgeon is now on the endangered species list. Pollution, smugglers and illegal catches are the main cause. CITES is an international convention that controls trade in endangered animal and plant species.
CITES has established rules and made agreements with the countries involved regarding capture and control. The legal import and export of caviar is regulated through CITES. Needless to say, Persian Caviar carries this CITES seal.
Finally….
On behalf of Persian Caviar, I hope we have given you more insight into the world of caviar and that our delicacies appeal to you!
Service and quality are our main focuses. Persian Caviar is the exclusive importer of caviar in Europe and also E.G. and CITES approved. Persian Caviar therefore acts according to legal HACCP standards.
We import our delicacies directly from the country of origin which allows Persian Caviar to guarantee the high quality and freshness. We deliver our products in a confidential manner to ensure they reach you in the right way. So that you get the quality you should expect from us….
Of course, I cordially invite you to visit Persian Caviar at the Gevers Deynootweg 57e in Scheveningen in person! If you prefer to shop online, take a look at our
webshop. We strive to provide you with as much information as possible, this is what we have designed the website to do. Should you still have questions please contact contact us, have fun shopping!